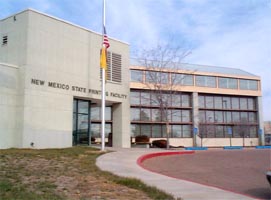 General Services Department - Printing & Graphic Services
Building Information:
This building serves State Printing and Graphic Design Services, which offers graphic design, printing and bindery services to government agencies and nonprofits. The building was named for Betty Fiorina in 2007. Fiorina was the first person to serve as New Mexico secretary of state for three terms (1959-1960, 1961-1962 and 1970-1974). She also served in several positions with New Mexico executive and legislative agencies beginning in the 1940s.
"La Bajada"  Gino Miles, Artist

Fabricated aluminum,spanning 25'
Taxation & Revenue Division/Motor Vehicle Division
Commercial Vehicle & Drivers License Bureau
Building Information:
The inside of the building features the metal sculpture "La Bajada" created by Gino Miles. He received his bachelor of arts and master of arts degrees from the University of Northern Colorado. He studied outside Florence, Italy, also attending classes at the università per stranieri di Perugia and the accademia delle belle arti in Florence. The abundant Italian sculpture, architecture, paintings, food and culture heavily influenced his life and his art. In 1983, Miles returned to the United States with his wife, settling in Santa Fe. The artist revels in the beautiful, open and unique terrain of New Mexico, where he continues sculpting, fabricating and casting works inspired by what he sees every day. Miles' work embodies his passion and energy inspired from classical figures, as well as objects found in nature, transforming them into contemporary statements. He produces work that is conceived in a timeless attention to form and negative space. 
Miles' sculpture inside the MVD office is an abstract representation of the earliest La Bajada Road, incorporating the ups and downs and the hairpin turns of this famous stretch of old dirt road, which was the original Route 66 connecting Santa Fe and Albuquerque. The sculpture is also reminiscent of the everyday journey we all must make, whether it is a cross-country trip or just a drive around the corner to buy groceries. This work synthesizes the past and the present of New Mexico, connecting all of its people to the culture that built this great state. (Funded by the Art in Public Places Program, New Mexico Arts, Department of Cultural Affairs).
Department of Public Safety - Motor Transportation Police
Building Information:
 The building once served as the Army Reserve building and was referred to as T-186 until 1997 when it was purchased as part of the process to create state government's West complex. In 2002, the building was named for Dr. Timothy F. Fleming. Due to a rare malignancy that was first diagnosed when he was 22, Fleming passed away in 1999. Graduating with his medical degree from the University of Pennsylvania in 1978, Fleming joined the U.S. Public Health Service and was assigned to an isolated clinic serving the Hualapai and Havasuapi Indian nations in Arizona. Over the next 10 years, he also cared for and befriended people from various pueblos and tribes in New Mexico and Oregon. From his experiences with spiritual people, Fleming began to approach life's challenges with a greater sense of insight and commitment.
"Each step of the way it is evident that I gained far more from Indian people than I could ever have repaid them in healthcare services," Fleming said.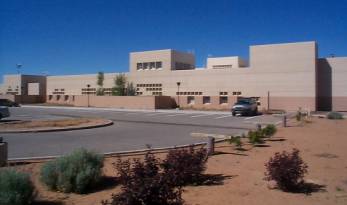 New Mexico Commission of Public Records - State Records Center and Archives
Department of Cultural Affairs
Building Information:
The building is named after Garrey Carruthers, governor of New Mexico from 1987-1990. Carruthers grew up in Aztec and received his bachelor's degree in agriculture in 1964 and a master's degree in agricultural economics in 1965 from New Mexico State University. After receiving a doctorate in economics in 1968 from Iowa State University, he returned to New Mexico State University to teach agricultural economics and agricultural business. He was a White House Fellow from 1974 to 1975, acting director of the New Mexico Water Resources Research Institute from 1975 to 1978 and state chair of the Republican Party of New Mexico from 1977 to 1979. From 1981 to 1984, he served in two positions at the U.S. Department of Interior. He was elected governor in 1986 and served as chair of the Border Governors' Commission and of the Education Commission of the States. Carruthers later served as chancellor of New Mexico State University and as a member of the state Ethics Commission.
The building houses the New Mexico State Library and the State Records Center and Archives and serves to store important records regarding New Mexico's rich history. The archives vault is constructed to maintain specific temperature and humidity levels. This climate control system protects invaluable documents dating to the late 1500s.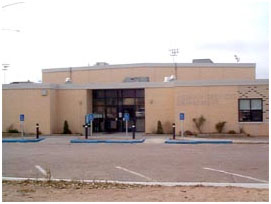 Facilities Management Division
Transportation Services Division/Central Fleet Authority
Building Information:
T-187 refers to the numbering system used by the National Guard during the time it occupied the complex. The General Services Department's Building Services Division (since renamed the Facilities Management Division) moved into the building in 2009. GSD's Transportation Services Division also has been headquartered at T-187 since 2011. 
General Services Department - Surplus Property
Building Information:
Surplus Property, a bureau of the Transportation Services Division of the General Services Department, provides redistribution of excess property from state and federal agencies. It holds a monthly public sale of items not purchased by agencies and nonprofits.
Aging and Long Term Services Department
Regulation and Licensing Department
N.M. Board of Examiners for Architects
Building Information:
This is the one of the newer buildings maintained by the General Services Department. It incorporates open office concepts, underground parking and a water catchment system to help reduce water use.
The building is named for Toney Anaya, a past governor and attorney general of New Mexico. Anaya was born in Moriarty in 1941. He briefly attended New Mexico Highlands University and in 1963 graduated with a bachelor's degree in economics/political science from Georgetown University in Washington, D.C. He received his law degree from Washington College of Law, American University, Washington, D.C., in 1967.
Anaya demonstrated an early interest in and attraction to national  politics. He worked as a clerical assistant to U.S. Sen. Dennis Chavez in 1959, held federal jobs while in school in Washington and was legislative counsel to U.S. Sen. Joseph M. Montoya from 1966-69.  As attorney general (1975-1978), Anaya established his reputation for being fearless and tenacious. He concentrated his efforts on issues like consumer education, consumer protection and legislative campaign reform. As governor (1983-1986), his agenda was based on the premise that government should provide services that individuals cannot provide for themselves. Anaya pursued his program as governor energetically, regardless of the consequences. He opposed the death penalty, declared New Mexico a sanctuary for political refugees as a response to the turmoil in Central America in the mid-1980s and was vehemently attached by critics for his actions.
Building Information:
The building is named for Willie Ortiz, who died in 2001. Ortiz was a native of Chimayo, a graduate of the College of Santa Fe, a Republican activist, State Personnel Board member, state highway commissioner and owner of La Tertulia Restaurant, a longtime Santa Fe landmark.
The building's auditorium is named for Leo Griego who died in 2001 and was a state personnel director (1979-1984). Griego also had been executive secretary of the Public Employees Retirement Association and had held positions with the General Services Department, the State Land Office and the Department of Agriculture.
The building served many years as the headquarters for the New Mexico National Guard. The state acquired it in 1997 and began a major renovation to house the State Personnel Board.