Robert E. Doucette, Jr., Cabinet Secretary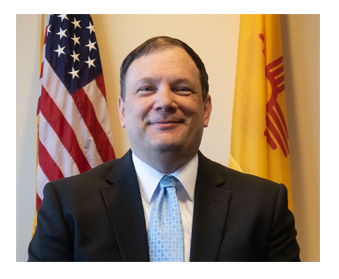 Robert E. Doucette, Jr. was appointed by Governor Michelle Lujan Grisham on February 17, 2023 to serve as the secretary of New Mexico's General Services Department (GSD). Mr. Doucette has been in public service for over 25 years. He worked at the WCA from April, 2011 to May, 2015, overseeing the agency's operations and support functions. He has served as deputy manager of Sandoval County and was Deputy Superintendent of Insurance for New Mexico from 2015 to 2021. He has held various management positions within Bernalillo County. Secretary Doucette graduated with a Bachelor of Science in English in 1998 from Black Hills State University and was commissioned into the U.S. Army as an air defense officer. He obtained his Master of Arts degree in management and leadership in 2004 from Webster University. He also currently serves as Director for the New Mexico Workers' Compensation Administration.
Welcome to our website. Whether you are a state employee looking for information about your health benefits, a contractor seeking details on how to do business with the state or a representative of a New Mexico government agency who needs state printing services, we want to make sure you find the information you need.
Our statutory mission is to achieve the highest level of government efficiency through consolidation of resources and improved operating procedures.
GSD must and will achieve the greatest return on your investment in state government by prioritizing projects and working to achieve the greatest possible effectiveness for New Mexico citizens.
GSD provides seven key services to other state agencies:  Printing; Purchasing; Risk Management (acting as the state's insurer and health care manager); Facilities Management (lease management and major capital construction, maintenance, utilities, and security of state owned facilities); and, Transportation Services (surplus property, vehicle and aircraft fleet operations).
GSD's Key Objectives
Government purchase of goods and services at the lowest possible price to taxpayers.
Procurements that are fair to all bidders and in accordance with state laws and regulations.
Promoting and assisting New Mexico businesses in seeking government contracts.
Modern, well-maintained, energy-efficient and secure buildings for state agencies.
Reduction in leased office space and associated costs.
Management of liability claims against public agencies that is fair to both claimants and taxpayers.
Open and transparent handling of damage claims, to the extent allowed by law.
The General Services Department is committed to providing fast and friendly responses to all inquiries, suggestions and comments that the Office of the Secretary receives from the public and state entities. Please let us know how we can better serve you by Clicking here to submit your comments and filling out an online comment form. Your request will be delivered directly to the Office of the Secretary for review and follow up.
Fiscal Year 2024 Strategic Plan
Fiscal Year 2023 Annual Performance Report