Lew Wallace Building
Named for Lewis Wallace (1827-1905), lawyer, novelist, territorial governor of New Mexico and U.S. diplomat. Born in Brookville, Indiana, Wallace served in both the Mexican and Civil wars. He was governor of the Territory of New Mexico from 1878 to 1881 and minister to Turkey from 1881 to 1885. His famous book "Ben Hur" has been one of the best-selling novels in American history and was made into several motion pictures. 
The Lamy and Lew Wallace buildings were once dormitories for St. Michael's School. The state acquired the properties from the school in the late 1960s.
Green Energy Project Schedule
| | | |
| --- | --- | --- |
| Task Name | Start | Finish |
| ECM-1 Lighting | Thu 4/9/20 | Mon 4/13/20 |
| ECM-2 HVAC & Controls, VFD | Tue 1/14/20 | Thu 1/16/20 |
| ECM-2 HVAC & Controls, CT , HTG -X | Mon 3/23/20 | Thu 3/26/20 |
| ECM-2 HVAC & Controls, SC | Mon 12/2/19 | Fri 10/16/20 |
| ECM-2 HVAC & Controls, Chiller Replacement | Mon 3/9/20 | Thu 3/26/20 |
| ECM-2 HVAC & Controls, BY PASS | Mon 3/9/20 | Thu 3/26/20 |
| ECM-2 HVAC & Controls, Fan Coil Unit Replacement – 90 | Mon 1/4/21 | Fri 5/28/21 |
| ECM-3 Building Envelope, | Mon 4/27/20 | Thu 4/30/20 |
| ECM-4, Water Conservation | Thu 3/12/20 | Thu 3/12/20 |
| ECM-5, Transformers -1 | Sat 12/7/19 | Sun 12/8/19 |
| ECM-6 PV Solar, RM 43.5 kWdc | Mon 3/23/20 | Mon 6/1/20 |
Anticipated Annual Energy Savings: $15,047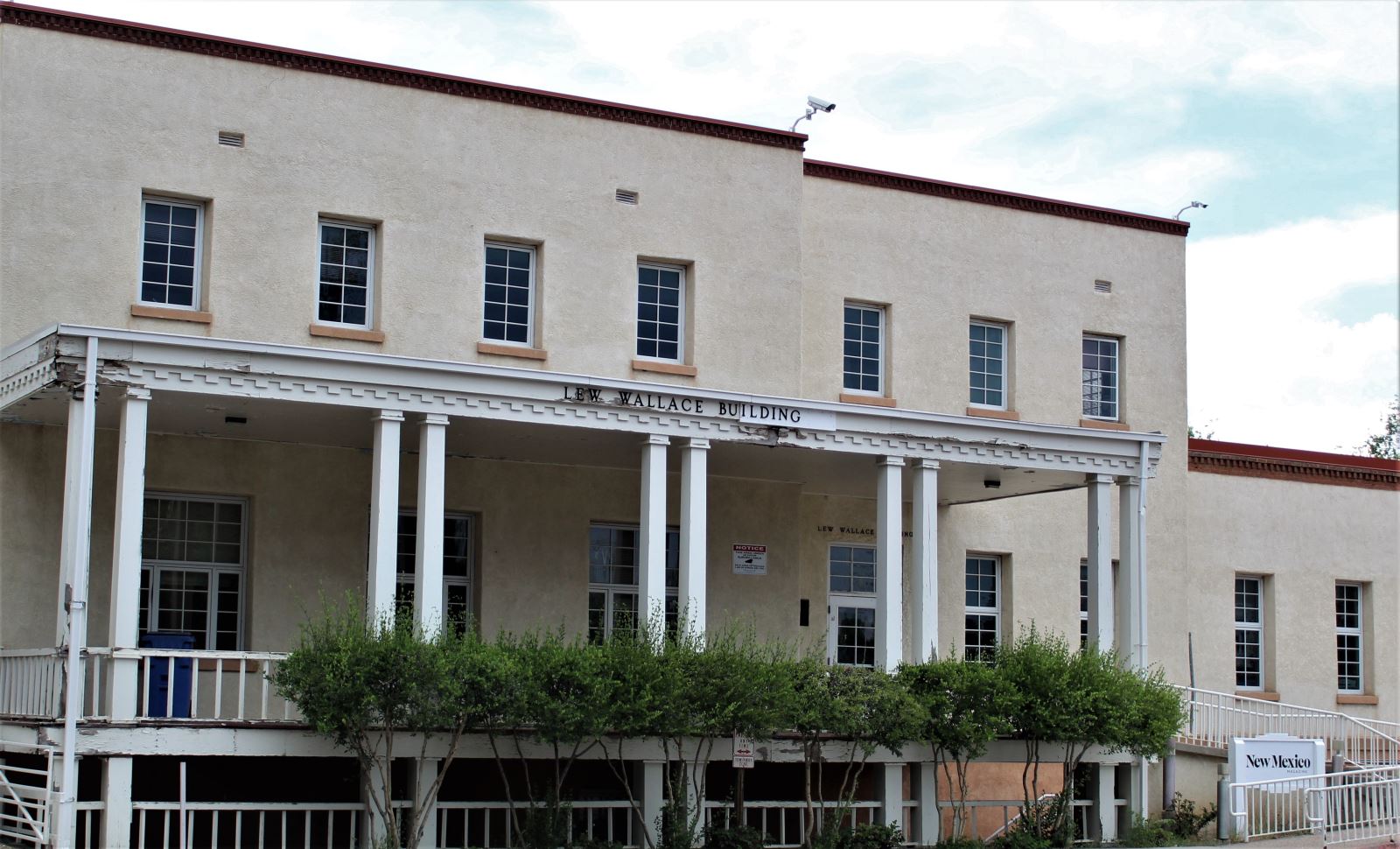 Lew Wallace Building
Address: 413 Old Santa Fe Trail
Square Footage: 18,924
Year Built: 1887